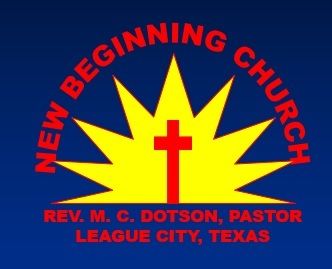 The New Beginning Church will be open for live services for vaccinated members starting Sunday May 2, 2021 at 11 a.m.
Facemask and social distancing is required.

If you cannot come to the church, you are invited to watch the Sunday Morning Worship Service via livestream on the Livestream Page every Sunday starting at 11 a.m.

The Sunday School Lesson is usually posted on the Livestream page and on Facebook on Wednesdays.
The SICK and BEREAVED List
is now located on the Prayer Request Page
As of Monday, March 29, 2021, everyone age 16 and older is now eligible to receive a COVID-19 vaccine in Texas.

The state's Expert Vaccine Allocation Panel recommended opening vaccination to everyone who falls under the current Food and Drug Administration emergency use authorizations. All vaccines are authorized for people age 18 and older. The Pfizer vaccine is authorized for people 16 and older.

How to Find Vaccine
There are multiple tools to help you find vaccine in Texas. Check these tools frequently, as more providers and pharmacies will be added to each over the coming weeks.
Vaccine Locator Tools Providers page to find a hub near you and learn how to register.

Retail Pharmacies List
Check your local pharmacy's website to see if vaccine appointments are available. On March 29, the White House announced that the Federal Retail Pharmacy Program is doubling the number of pharmacies receiving the vaccine by April 19. To find out which pharmacies are participating in the program, visit CDC's Federal Retail Pharmacy Program website.

Texas Public Health Vaccine Scheduler
The new Texas Vaccine Scheduler helps Texans get scheduled for a COVID-19 vaccine at clinics hosted by participating Texas public health entities.
Register online at GetTheVaccine.dshs.texas.gov. You will be notified by email or text when and where to get the vaccine. If there's not an available clinic near you, you will be directed to other places to get your vaccine.

Call (833) 832-7067 if you don't have internet or need help signing up. Call center support is available 7am-7pm, 7 days a week.

Be blessed,
Pastor D.
Phone or text: 409-370-0941
It is our responsibility to serve you; we are committed to keeping our family and friends health and safety a top priority. New Beginning Church will continue to monitor recommendations from the CDC, state, and local health and public officials. Therefore, we require everyone to always wear a face mask, use hand sanitizer and practice social distancing. At this time, the New Beginning Church facility is NOT open to the public. We invite you to worship with us online at 11 a.m. on Sunday mornings and again at 7 p.m. on Wednesday nights. As always, please continue to check our website for continuous updates about COVID-19.