New Beginning Church
Celebrating 19 Years
of Leadership

Pastor Malcolm C. Dotson, Sr.
Sunday, August 22, 2021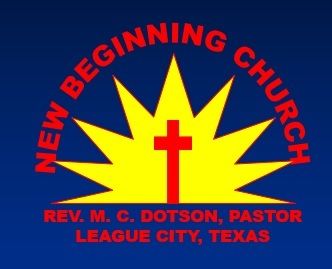 The New Beginning Church is now open for live services for all members at 11 a.m. on Sunday mornings.
Facemask and social distancing is required.

If you cannot come to the church, you are invited to watch the Sunday Morning Worship Service via livestream on the Livestream Page every Sunday starting at 11:15 a.m.

The Sunday School Lesson is usually posted on the Livestream page and on Facebook on Wednesdays.
It is our responsibility to serve you; we are committed to keeping our family and friends health and safety a top priority. New Beginning Church will continue to monitor recommendations from the CDC, state, and local health and public officials. Therefore, we require everyone to always wear a face mask, use hand sanitizer and practice social distancing. At this time, the New Beginning Church facility is NOT open to the public. We invite you to worship with us online at 11 a.m. on Sunday mornings and again at 7 p.m. on Wednesday nights. As always, please continue to check our website for continuous updates about COVID-19.