New Beginning Church Christmas Project 2021
This year New Beginning Church is once again partnering with the Bay Area Turning Point (BATP) to provide toys for children who are clients of the BATP. The BATP provides food, shelter and other services for individuals who are in crisis situations caused by domestic abuse or similar trauma. Last year the BATP saw a 77% increase in those needing services and this year the need is expected to increase.
You can use any of these three options described below to help with this Christmas project:
Please purchase a toy or game and return it unwrapped to the NBC by noon, Wednesday, December 15th. Christmas tags with the items needed will be placed in the vestibule of the church and you may take one or more tags. The item listed on the tag should be purchased and brought to the church unwrapped and placed in the collection bin located in the vestibule of the church.
Donate cash that will be used to purchase toys that will be given to the BATP. Any amount will be appreciated and used to purchase toys for the children.
Give a check payable to the Bay Area Turning Point to be used for those needing services provided by the BATP.
Thanks in advance for helping to make Christmas brighter for children who are clients of the Bay Area Turning Point.
Questions regarding this project can be directed to the following:
Christmas Project Coordinator, Sis. Valeria Hope - 281-507-5156
Rev. Malcolm Dotson, Sr., Pastor - 409-370-0941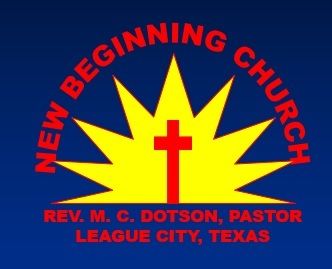 The New Beginning Church was founded on July 25, 2001, by a group of Christian believers meeting at the League City Civic Center since September 1998. The congregation consisted of 85 charter members from Harris and Galveston Counties. They grew in knowledge and wisdom by believing in Christ as their Savior, Redeemer, Lord and God. Depending on the scripture as recorded in Matthew 18:20 that says - For where two or three are gathered together in my name, there am I in the midst of them - they praised Him, thanked Him for the presence of His Spirit, and worshiped Him in spirit and truth.
Our vision statement is: "There are no dead-ends in Christ, just continue to look forward and see the New Beginning."

Our mission is to move God's people from membership to discipleship by continuing to keep Christ first in our lives and our church so that we can achieve its mission as Christ commanded in Matthew 29:19-20: Go ye therefore, and teach all nations, baptizing them in the name of the Father, Son, and Holy Ghost: Teaching them to observe all things whatsoever I have commanded you, and lo, I am with you always, even unto the end of the world.
It is our responsibility to serve you; we are committed to keeping our family and friends health and safety a top priority. New Beginning Church will continue to monitor recommendations from the CDC, state, and local health and public officials. Therefore, we require everyone to always wear a face mask, use hand sanitizer and practice social distancing. At this time, the New Beginning Church facility IS OPEN to the public. We invite you to worship with us online at 11 a.m. on Sunday mornings. As always, please continue to check our website for continuous updates about COVID-19.